One of the big issues we Fringe Staffers (as well as you artists and patrons!) come up against this time of year is where we're going to get our food. When you're Fringing as hard as we are for twelve straight days, and you want to see everything but still have enough money left to enjoy a few delicious and refreshing Christian Moerlein beers at the Bar Series, you just can't be eating out for every meal! Now, to many people, cutting back on food means a lack of variety, or a lack of non-fast food options. However, I believe that you can Fringe Binge on a budget without getting bored with your food options! Today I've compiled a list of a few easy things you can do to help that precious dollar stretch a little bit further…
1. Sandwiches
My sandwiches don't look like this. I only wish they did
Who doesn't love a sandwich? And there are so many options! For the especially tight budget, PB&J is a great, reliable option. You can get a jar of peanut butter, two types of jelly (for variety), and a loaf of bread for under $10!
For the slightly larger budget, there's also the option of lunch meat and sliced cheese. Most grocery stores have something on special each week, and I can usually find tasty options like turkey, salami, and sometimes even ham for $5 a pound. Dress it up however you want with whatever you can find in your fridge, and voila! Good eats for cheap.
2. Crock Pots and Rice Cookers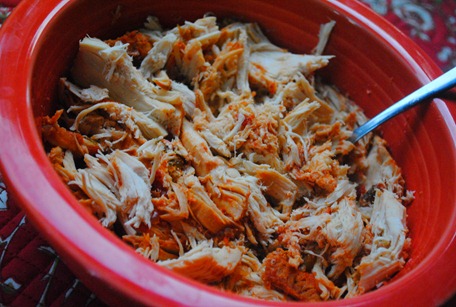 Look at that beautiful chicken footage
Crock Pots and Rice Cookers are wonderful little implements that travel well. Especially for those of you who are staying downtown during the festival, these can be a fantastic option to create delicious meals on a budget. Just throw everything in there around lunch time, and it'll be ready in time for dinner! I usually use chicken, since Kroger has those Value packs for under $2 per pound, but if other meats are on sale, go ahead and get fancy! Plus, it's easy to throw plenty of veggies and other good things in there for extra nutritional value! This is also a good way to go through your pantry and fridge, and use a lot of things that you already have, thereby saving some money on the grocery trip. Plus, if you are in a pinch and have to resort to ramen, you can use ramen spices and water to cook your meats and/or vegetables, and then just throw the noodles in a few minutes before the cooking is done. This makes ramen WAY more awesome.
In case you were wondering about the tasty cooking smells that have been permeating the Underground in the early Fringing hours these past couple days, here are three recipes Chris Wesselman (Associate Producer) and I have tried so far. Quantities listed are for two, but it's easy to adjust for more or less! I realize now that I probably should've taken pictures of our food, so that you could see the recipes in action… Hindsight. Trust me, they looked, smelled, and tasted delicious.
Easy Chicken Stew – very savory, with just a hint of spice
2 chicken breasts
1 can/serving of vegetable stock
Carrots
Green Beans
Onions
Potatoes
Green Peppers
Jalapenos
Salt, Pepper, Oregano, Rosemary, Thyme, Curry, Cumin, and any other spices that sound delicious
Throw it all in the crock pot and cook on high until the chicken is done – about 4 hours in our small crock pot.
Of course, you can always use a veggie-laden vegetable soup instead of the stock, and add or subtract things at your whim!
Pulled BBQ Chicken
2 chicken breasts
1 can or serving of chicken broth
Spices (I used Mrs. Dash's salt-free chicken grilling blend)
BBQ Sauce (I used Montgomery Inn)
Cole Slaw (if desired, we didn't use it)
Buns
Put the chicken breasts in the crock pot with the broth and spices. Be pretty heavy handed with the spices, to be sure the chicken and the broth really take on the flavors. Cook on high until the chicken is done and pulls apart (about 4 hours). Drain the chicken broth, or set it aside for now and add veggies etc. to make soup. Pull the chicken apart, pour in as much BBQ sauce as desired, and let that sit in the crock pot on high for about another half hour, to get the sauce heated up and to saturate the pulled chicken. Put on buns (with or without cole slaw) and enjoy! We ended up with leftovers and had a third sandwich.
Chicken Tikka Masala
2 chicken breasts
Tikka Masala Sauce – I bought ours from the store. I don't remember which brand, but it was a spice level of medium and is very delicious. If you know how, feel free to make your own, but I don't know what buying all those ingredients would look like, cost-wise.
Vegetables if desired, we like green peppers and mushrooms
2 cups Basmati Rice – you can substitute regular white rice, which is a bit cheaper, but using Basmati is best
Put the chicken breasts and the sauce into the crock pot and cook on high until the chicken is done (about 4 hours). I like to add my vegetables halfway through the cooking time, because I don't like them to get too soft, but they'll be just fine if you add them at the beginning. About half an hour before the official end of cooking time, pull apart the chicken, so the sauce can get in properly. Then, prepare the rice according to the instructions for your rice cooker. My rice cooker has its own measuring cup, and fill lines in the bowl for water. 2 cups usually takes about 20 minutes. Serve chicken and sauce over rice! We fed three people on this, but honestly probably could have fed four.
3. Seek out and enjoy local lunch specials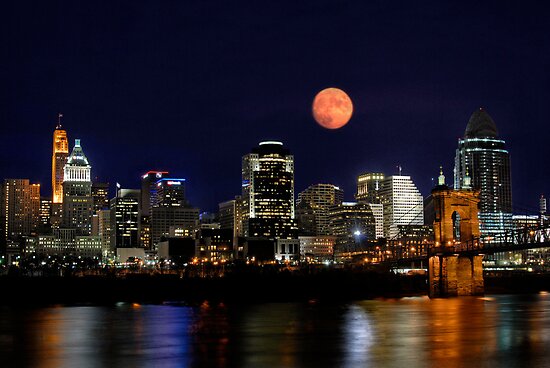 There are lots of restaurants in this picture, you're just too far away to see them. …Okay, you got me, I just like this picture of our skyline.
Here in Over-The-Rhine (and downtown in general), we are fortunate to have lots of really great restaurants and lunch joints, with lots of really great specials. For example, Avril Bleh has some dirt cheap breakfast sandwiches (though they do stop serving breakfast before lunch hits), lunch sandwiches between $5-8, and salads so huge they feed me for two meals (I recommend the chicken Caesar). BTW, they also have great pasta salad. The Win Wok on Court Street has a $5 lunch special of rice or lo mein, one appetizer (i.e. egg roll or crab rangoon), and two entree options. Tom + Chee offers delicious grilled cheese and tomato soup options that are creative, inventive, and delicious! Plus, you can get a combo for as cheap as $5 or as much as $10, depending on how many and what type of ingredients you put on your sandwich, and how much soup you get. Greek To Me recently opened a downtown location, and they have a large variety of gyros at affordable prices, as well as several appetizer and salad options. Now that the summer months have hit, Turophilia is open again in the parking lot south of the library, on Vine. I have enjoyed every one of their quesadillas that I have tried, and they usually run between $6 and $8.
Of course, for your later night options, you may be able to find one of our elusive food trucks for good eats at a good price, or Lucy Blue's pizza window for a couple delicious slices.
These are just a few examples, go explore! And let me know if you find anything irresistable!
4. Cook ahead of time, and in bulk
I wish I had a tower of leftovers like that. That stuff looks delicious.
It's cheaper to buy food in bulk, especially frozen vegetables, as larger packages cost less by the ounce. A good idea would be to make a few days' worth of two or three different meals, and then package them to take with you on a day to day basis, alternating meals so you don't get bored with your food. Saves time by cooking all at once, and money per meal by buying larger quantities!
Thanks for tuning in Fringers! I hope these handy tips will help your Fringe be a cheaper and tastier one!